VendorPanel resources & procurement insights
Discover more about our
Source-to-Contract platform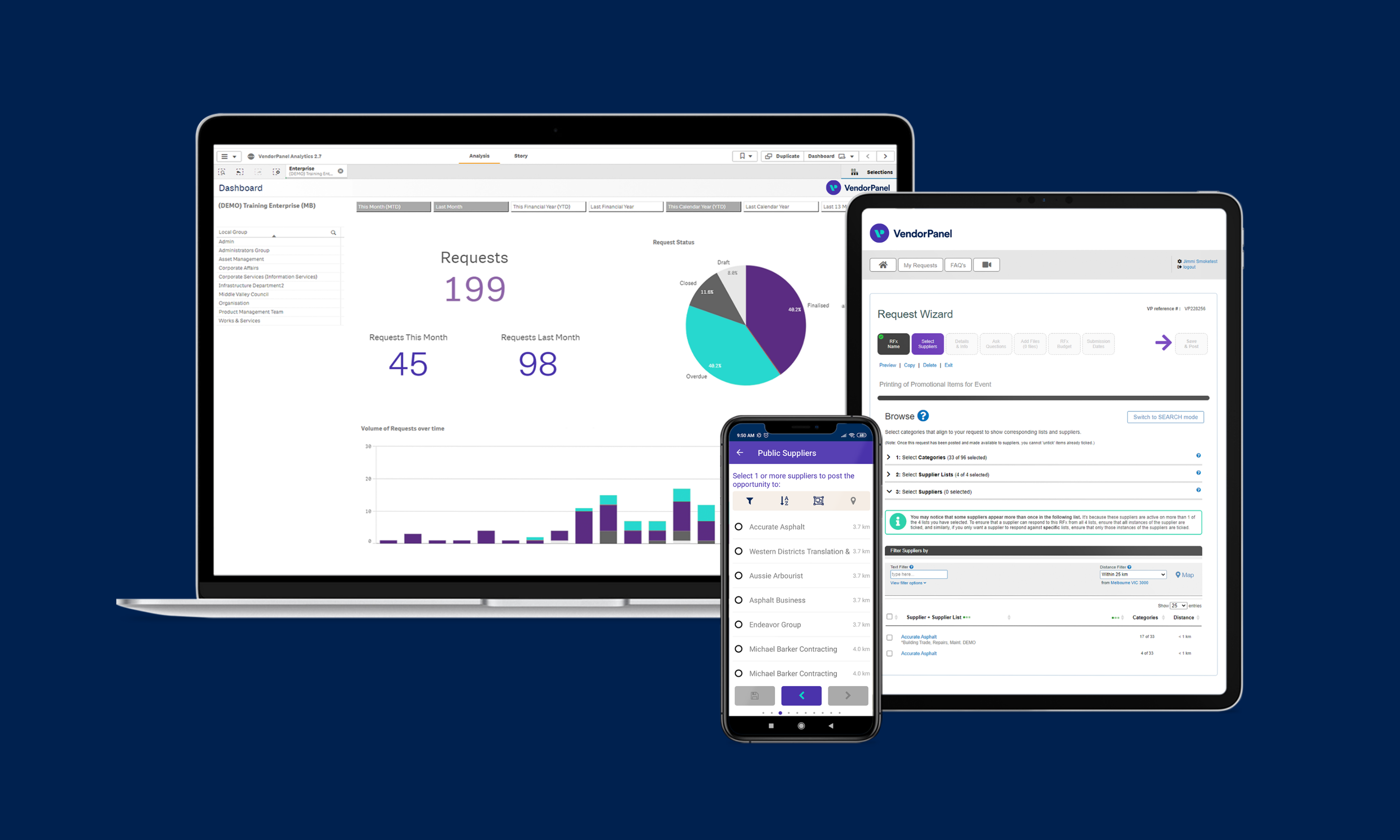 Ready to learn more?
Thank you for your interest in our Source-to-Contract procurement platform. We have included some key resources below to give you more insight and information on the core functionality and benefits of our platform. We have included some webinar recordings, use case studies, blog posts and insight pieces for you to explore.
Ultimately, as a next step, we would love to have a chat with you to discover more about your organisation and how VendorPanel can add value, manage risk, and support your procurement processes.
Book a call with us below and discover what 'The New Procurement' could mean for you.
Introduction to VendorPanel
Linda Scott, Head of Sales ANZ at VendorPanel leads this top-line introduction to our award winning procurement software, discussing the problem we solve, how we can integrate with your current systems and enhance your procurement processes.
Watch the full webinar or skip ahead to the sections that most interest you:
00:49: What is VendorPanel?
01:54: The problem we solve
08:37: Source-to-Contract platform functionality
11:28: Procurement technology ecosystem
The Rise of the Procurement Ecosystem
VendorPanel's Chief Revenue Officer, Matt Clyne, along with experienced panelists, Rob Phillpot (ex-Aconex), John Deeb (Workato), and Peter Mifsud (LocalBuy) demystify the integration of processes and systems, and uncover some of the tools available to help procurement teams design and implement an ecosystem roadmap.
Watch the entire webinar here, or skip ahead to the parts that most interest you:
1.52: Research and trends in procurement ecosystems
3.41: What does a procurement ecosystem look like?
8.04: Trends in the integration landscape
17.38: Selecting the right tools for your tech stack
22:57: Achieving the right balance for your organisation
26.45: How integrated do you really have to be?
33.22: Data privacy and data access
36.40: Using your ERP as the core of your ecosystem
BGIS Case Study
Read more on how Facilities Management company BGIS adopts a best-of-breed procurement ecosystem model to improve compliance and advance social procurement.
Cybersecurity
A key question to ask within an organisation - are you ready to put your procurement solution under the microscope? Six critical points on security and risk are addressed in this blog.
Taming the Long-Tail
Did you know that one of the greatest opportunities for procurement to have impact lies in long-tail spend, the large volume of lower-value sourcing that happens across an organisation?
VendorPanel at a Glance
Read our top-line overview of VendorPanel, the problem we solve and how we enhance procurement processes and solutions for our clients.
Our Marketplace
Read more on our local supplier Marketplace, allowing our clients and buyers access to our large database of local and social suppliers.
Cost Savings Calculator
Take our quick, no obligation online calculator to get real time results on just how much time and money you could be saving across RFxs with VendorPanel.

Thanks for your interest in VendorPanel. One of our Sales Development Representatives will be happy to help you on your journey to the New Procurement. Please book some time in the calendar below for a discovery chat.